Upcoming Events

Found in Translation
Saturday, 11/18/2017, 6:30PM-8:30PM
Found in Translation brings together 3 published translators: Margaret Carson, Chia-Lun Chang, and Kyoo Lee, working in the 3 most common non-English languages spoken in Flushing—Spanish, Chinese, and Korean—to lead a workshop on the poetry translation process with the public, facilitated by poet and essayist Richard Newman. 
Participants will NOT need to know the original language. We will use the information provided by the translators to make a version that stands on its own as a poem in English. In this way, participants will confront the cultural, aesthetic, and ethical questions that translators face when bringing the literature of one language into another. A facilitated discussion will follow the group workshop.
This events celebrates the diverse cultures in Queens and the fact that Lewis H. Latimer taught immigrants ESL classes at the Henry Street Settlement during his retirement. It's co-sponsored by First Tuesdays Reading Series and Newtown Literary. This program is supported, in part, by public funds from the New York City Department of Cultural Affairs in partnership with the City Council, and by Poets & Writers.
---
.
30th Annual Holiday Historic House Tour: Honoring the Fight for Women's Right
Sunday, 12/10/2017, 1:00PM-5:00PM
Celebrate the holiday season with seven Queens historic sites and learn about their unique histories!
$15 ADVANCED PURCHASE
$20 AT THE DOOR
$5 CHILDREN (under 12)
Set your own pace and visit as many sites as you choose. One ticket is good for all seven sites. Each historic house offers tours, sponsors activities, and provides refreshments and snacks. Many of the houses will have musical performances throughout the day, holiday crafts to make and take, and historically- themed seasonal displays and decorations.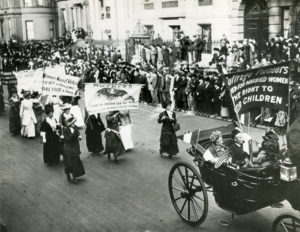 Since this year is filled with important historic anniversaries, the overarching theme will be the celebration of The Centennial of the Women's Suffrage Movement. Each house will feature a prominent woman associated directly or indirectly with the historic site. This event will be a point of reflection upon the importance of the women featured, and will greatly aid in recognizing the heritage they left to future generations.
The six sites are within walking distance. There will be a dedicated shuttle that runs between Flushing Town Hall and the Louis Armstrong House Museum. Handouts will be given to visitors for the bus times and schedule.
For more information, contact the Queens Historical Society at 718-939-0647 ext. 14 or via email at: info@queenshistoricalsociety.org.
*All houses are handicap accessible.
Share with us using #HHHT
---
Tinker Fest & Holiday Tree Lighting
Saturday, 12/16/2017, 1:00PM-5:30PM
Celebrate the holiday with fun tinkering, tree lighting, hot cocoa, and music with us!
1:00pm-2:20pm, Lego Building & Sketch with AIA Queens

2:40pm-4:00pm, DIY LED Holiday Cards & E-Lantern Making

4:30pm-5:30pm, Christmas Tree Lighting, Hot Cocao & Music
This event is free. RSVP is required. Please select the session(s) you are attending.
This program is produced in partnership with AIA Queens, and supported, in part, by HSBC Bank, Con Edison, and by public funds from the New York City Department of Cultural Affairs in partnership with the City Council.
---
Past Events